How to Travel This Summer Without Pain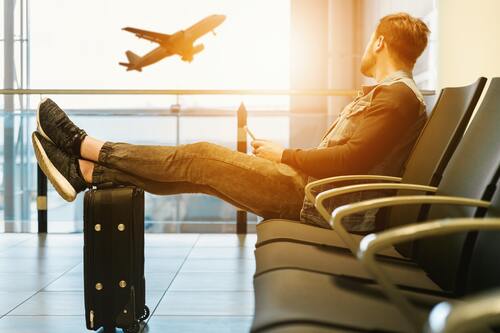 Does chronic pain make it hard for you to travel?
Have vacations lost their appeal?
Traveling can be uncomfortable for anyone dealing with chronic pain, and it can make already existing pain even more apparent. Sitting in a cramped car or plane for hours, falling asleep in a strange position, using a pillow you're not used to, and walking more than usual can all exacerbate your pain.
Don't let pain prevent you from traveling! You deserve to relax and explore the world.
Here are our tips for minimizing your pain while on vacation.
Planes – The best seat to have on a plane isn't the window seat! When you have pain, the aisle seat is the best choice because you can stretch your legs more. While in your seat, sitting with good posture can prevent additional pain. Every thirty minutes, get up and walk up the down the aisle to prevent stiffness and get your blood circulating.
Neck pillows help, but bring your neck or back brace if you know you'll need more support. If you have lower back pain, place a blanket or towel in between your back and the seat and mold it to support the areas you need it to.
Car, Train, or Bus – The back likes change, so change your seating position frequently. Recline your seat if possible and have frequent pit stops to stand up and walk around. Putting your car in cruise control can also help stretch out your legs. Similar to sitting on a plane, a towel behind your back can provide the support you need. You might want to bring an icepack and hot pack to treat any pain.
Luggage – For small bags, consider backpacks. Rather than weighing down one of your shoulders with a heavy shoulder bag, a backpack will distribute the weight evenly on both shoulders. For a suitcase, choose one with wheels. Make sure to lift correctly while carrying or retrieving any luggage. Learn how to lift correctly here.
While Sightseeing – If you're walking more than usual, bring comfortable shoes and shoe insoles. These can help plantar fasciitis and heel pain.
In the Hotel Room – Your neck might be used to your own pillow, so bring it if you can rather than using hotel pillows. Treat any pain with a cold pack or heat pack. If the hotel has a spa, go for a relaxing massage. Make sure the massage isn't therapeutic – it will be too hard.
Chiropractors in Ann Arbor Can Help Relieve Your Pain
How much have you missed out on due to pain? Maybe you haven't noticed because you've gotten used to living this way.
You don't have to continue living in pain! You can decrease your pain, increase your range of motion, and feel better with chiropractic care from Dr. Bill Thatcher.
Call 734-663-2300 or fill out our contact form to see one of the gentlest chiropractors in Ann Arbor!