Spring up with Healing Laser Therapy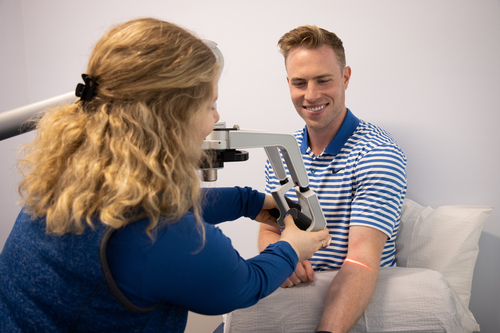 The sun is shining, the birds are singing – spring has sprung in Michigan!
Are you feeling stiff or in pain?
Do you want to feel as lively as the season?
If you receive chiropractic adjustments, chances are you already know the benefits of traditional techniques to realign the spine and heal the body. But did you know that chiropractors have other therapies that can help you heal? Dr. Thatcher uses pain relief laser therapy to help the body with the following challenges:
Arthritis in the spine, hips, knees, hands, and shoulders
Carpal tunnel syndrome
Herniated discs
Lower back pain
Migraines
Neuropathy
Plantar fasciitis
Rotator cuff and much more
Pain relief laser therapy can provide lasting relief to injuries that might otherwise require surgery or cause chronic discomfort.
How Can Laser Therapy Help You?
A healing laser does two things: it reduces your inflammation, which helps reduce your pain and it stimulates your cells' mitochondrial activity, which creates more ATP (Adenosine triphosphate), AKA - energy- to accelerate the healing process.
Healing lasers are used to help the body improve its own healing capacity. Imagine a slow-healing injury speeding up, inflammation from shingles being reduced, or a scar fading away. Healing lasers can even heal bones, help with migraines, and improve neuropathy. Speeding up the healing process can bring you relief and help avoid costly surgeries or other interventions.
Laser Therapy Chiropractors in Ann Arbor
Thatcher Chiropractic & Laser is here to help you heal from injuries and any discomfort in the best way possible. Most sessions take about 10 minutes and are pain free. We offer 4 session, 6 session, and 12 session packages for half the rate of other pain treatment centers or chiropractors in Ann Arbor.
This spring, feel alive! Please contact us today to schedule your first laser therapy session.