New Patients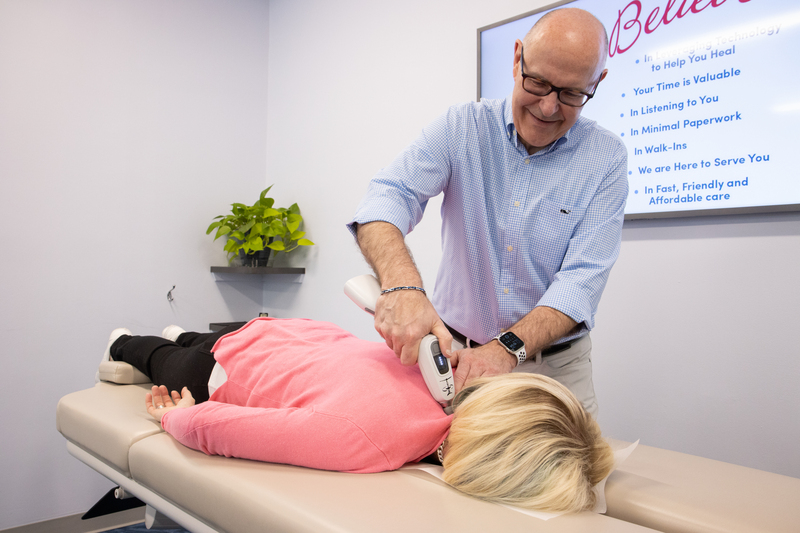 When you walk into Thatcher Chiropractic & Laser, you'll feel the calm and peace of our environment wash over you. You'll be greeted by a friendly staff member and can have a complimentary water while you wait. Our patients love that our paperwork is just a single sheet of paper that takes no more than a couple of minutes to fill out.
Know that we will always honor your time. With efficient systems in place and a highly trained staff, we will see you promptly.
Your First Visit
Your first visit with us will take about an hour. It involves a thorough examination with orthopedic and chiropractic testing. We'll use the MyoVision scanner to do a surface EMG. This scan shows the electrical activity in the muscles along your spine so that we know where the main areas of stress are. You'll also receive a chiropractic adjustment at your initial appointment.
Follow-Ups
For subsequent visits, you are typically in and out within 10-15 minutes.
Payment Information
If you give us your insurance information over the phone when you call to schedule, we'll have it verified ahead of time. Otherwise, we'll do so as soon as you arrive so that you know what your responsibility is.
We are in-network with
Blue Cross Blue Shield
Blue Care Network of Michigan
Cofinity®
Priority Health
Medicare
Michigan Department of Health and Human Services
Cigna
Physicians Health Plan
If you have a large deductible or don't have coverage, we participate with ChiroHealth USA. You can pay with credit cards and health savings account cards.
Are you ready to make your appointment? We welcome existing patient walk-ins and often have same-day appointments available. Contact us today!