How to Use a Back Brace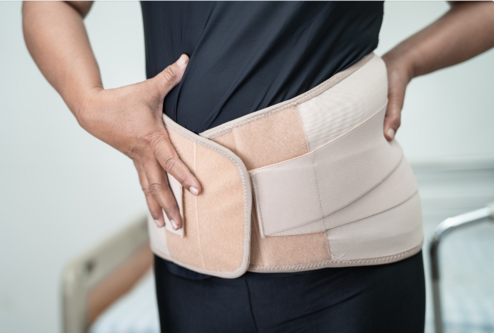 Do you have lower back pain?
Have you considered wearing a back brace?
There is long running debate over back braces. Some professionals argue that you shouldn't wear back braces because they can cause your back muscles to weaken, but others contend that they don't cause problems.
Here's the good news – for this application, it makes no difference who's right. If you use the brace on a limited basis, you'll get the benefit of the brace without allowing your muscles to atrophy.
Strategic use of a comfortable back brace is one of the best things you can do to manage lower back pain.
Here are the rules:
Buy a brace that has "medium" support. Some braces are very lightweight, flimsy, and nothing more than an elastic band to put around your waist. That isn't enough support to do the job. On the other end of the spectrum, some braces are built like Fort Knox - heavy duty elastic, multiple metal stays, and Velcro straps so strong you can hardly pull them apart. These heavy-duty braces can be uncomfortable and limit movement. Instead, find a brace that's in between. Dr. Thatcher recommends the Mueller brand, model 6711. It's comfortable, easy to put on, and gives good support without severely restricting movement.
When you're having an acute flare-up, wearing the brace for a few hours each day can help provide comfort and support to promote quicker healing. Dr. Thatcher recommends a "2-2-2" wearing schedule. Wear the brace 2 hours in the morning, 2 hours in the afternoon, and 2 hours in the evening. This gives your muscles periods of rest as well as periods of work.
Whether you're having an acute flare-up or feel perfectly healthy, a very important time to wear the brace is during periods of exertion, such as doing yard work, going to the park with your grandkids, washing the car, etc. These activities are threatening to your lower spine, and the brace will give extra support. The physical presence of the brace is also a reminder to be careful.
Don't sleep with the brace on.
Position the brace directly at the belt line. A common mistake is to wear the brace too high on the back. Here's the key – half of the brace should cover above your belt line and half below.
Don't wear the brace too loose. Cinch it up tight, like an old-fashioned girdle.
If you can't stand in place or walk very far without having back pain, you're a great candidate for a back brace. If you wear it using the rules above, you can depend on a back brace to help you be more active and enjoy your life with less pain.
Leave Your Pain with the Best Chiropractor in Ann Arbor
If you've struggled with lower back pain for years and still haven't found relief, Dr. Thatcher can help! He wrote the book on lower back pain!
Gentle adjustments to the spine with the Activator® instrument can improve your spinal alignment, range of motion, and promote your body's natural healing ability. Release yourself from pain and feel like yourself again!
To schedule an appointment with one of the best chiropractors in Ann Arbor, give us a call at 734-663-2300 or fill out our contact form.